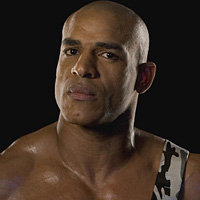 Militia
Name: Alex Castro
Height: 6'3"
Weight: 220 lbs
Country: United States of America
Years: 2008
The 6-foot, 3-inch, 220-pound Gladiator targets his opponents with tactical precision. With an impressive arsenal of skills at his disposal, he is well equipped for any operation and will do anything to complete his objective. Once Militia has you in his sights, you'd better have a plan, or the game is over.
Cuban born Militia rose from humble beginnings, his initial taste of fame began in Havana working as part of the Tropicana nightclub troupe. In 1994, a fateful crossing from his homeland of Cuba to Miami, Florida, went tragically wrong when the boat carrying him and five others sank during a storm. The men clung to a life preserver, with only a little water and no food. Three of them, including Militia's cousin, perished. Militia and one other survived the five day ordeal after being rescued by a U.S. Marines vessel. He credits that experience making him who he has become. After his honourable discharge from the Marines serving four years, he found work at the 'Cirque du Soleil' in Las Vegas as part of the Zumanity show.
Five years later, his next big break would arrive when an NBC producer spotted him at a charity event performing a circus stunt. After lifting his 192-pound partner into the air with one hand during the stunt, Militia was invited by the producer to audition for the 2008 revival of American Gladiators. He went on to compete in two seasons of the show.
After Gladiators, he went on to portray Hannibal for a television documentary 'Battles BC' (2009) as well as make other TV appearances including an episode of 'Burn Notice' (2010) and 'Hit the Big Time' (2011). Residing in Los Angeles, Militia hopes one day that he will be able to share his story of crossing from Cuba with audiences and to honour all those who died at sea.
Your Comments: