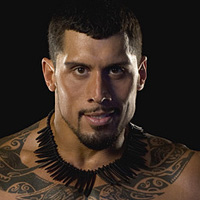 Toa
Name: Tanoai Reed
Height: 6'3"
Weight: 240 lbs
Country: United States of America
Years: 2008
With his tribal garb and distinctive tattoos, he may conjure up images of an island paradise, but facing him in battle is pure hell. Drawing on the power of his ancestors, Toa has the strength of a thousand warriors flowing through his veins, and he will never, ever show mercy.
In the first episode of NBC's American Gladiators, Toa delivered an abbreviated version of Ka Mate, a New Zealand Maori haka before beginning his defence at the top of the Pyramid.
Toa was born in Honolulu, Hawaii of Samoan and Norwegian, Swedish, Irish descent. He is the cousin and stunt double of Dwayne 'The Rock' Johnson.
As a Hollywood stunt man, he has appeared in over 45 films including Skyscraper (2018), The Avengers (2012), Iron Man 2 (2010) and Fast & Furious 6 (2013). He also featured in the 2006 video 'Pump It' by The Black Eyed Peas, and in numerous TV shows such as Hawaii Five-0 (2010/2013), 24 (2009), Buffy the Vampire Slayer (2002) and Baywatch Nights (1995).
Your Comments: