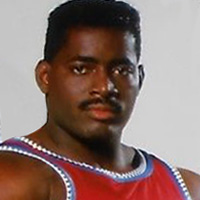 Titan
Name: David Nelson
Height: 6'2"
Weight: 220 lbs
Country: United States of America
Years: 1989
Titan was a Gladiator in the second half of Season One. He was an outstanding competitor but was often angry and aggressive. His best events were Powerball and Human Cannonball. He left at the end of the first season, some say he was fired for getting mad and chasing the ref up into the audience...
After attending high school at North Miami Beach, Florida, he attended Heidelberg College and Taft College. In 1983, he finished 1st place in the Teen Heavyweight category at the NPC Florida Bodybuilding Championships. Titan made his professional debut in the NFL with the Minnesota Vikings in 1984.
The former Pro American Football player, appeared in over 30 national commercials, and had minor roles on TV shows such as 'Martin' (1993), 'The Fresh Prince of Bel-Air' (1993) and 'Sister, Sister' (1995). Controversially, he starred in a adult movie in 1995, before returning to bodybuilding and gaining sixth place in the 1998 Super-Heavyweight NPC USA Championships in Las Vegas.
In 2000, it is rumoured he signed a development deal with the WWE and competed at Ohio Valley Wrestling (OVW) under the name of 'Rage'. He was part of a tag team with partner Shelton Benjamin. He also appeared with The Rock in Wyclef Jean's music video 'It Doesn't Matter'.
Your Comments: