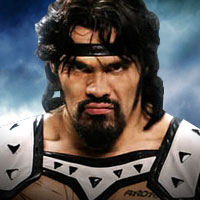 Warrior
Name: Daniel Singh
Born: 5 April 1987 - Durham, England
Age: 36 years old
Star Sign: Aries
Height: 6' 3" Weight: 17st 8lbs
Theme Tune: n/a
A savage beast who takes no prisoner. A Warrior in name and nature with a fearful battle cry.
As a keen rugby player at the age of 14, Warrior suffered a devastating injury, breaking his neck and becoming partially paralysed from the neck down, while a student at Durham Johnston School. It was no guarantee that he would gain his mobility back but fortunately after 8 months of rehabilitation and gruelling physio, he was able to gain his movement back to 100%. Howeber, the sedentary lifestyle imposed upon him caused his weight to skyrocket, tipping the scales at over 24 stone and classed as morbidly obese.
Inspired by wrestling shows, he shed the weight by training, playing basketball, a healthy lifestyle and lots of willpower. He went on to become a key player working for one of the leading chains of health clubs for 3-4 years absorbing as many qualifications as possible. Whilst working as a professional wrestler, he decided to apply to join the relaunched Gladiators series on Sky 1.
After several auditions, he was originally hired as reserve Gladiator Thunder for the 2008 series, but wasn't seen on screen. However he made the step up for the next series and made his debut as the raging Warrior. In the arena he excelled at Suspension Bridge and Earthquake, wowing the audience with his tribal victory dance!
Since Gladiators, Warrior competed in several UKBFF bodybuilding shows, with two top five placings. In 2010, he headed to the US to work for the WWE as Jarrod Locke in their FCW developmental territory, but returned home due to family commitments. Upon his return he signed a 4 fight contract with the Super Fight League (SFL) as a Heavyweight MMA fighter. He went from professional wrestler to MMA fighter in 6 weeks, winning his debut fight. He has also used his acting skills and physique to land a part in TV thriller 24: Live Another Day (2014) as Fazil, the head of security for the leading villain Margot (Michelle Fairley), starring alongside Hollywood star Kiefer Sutherland. He has also appeared in various other commercials.
In his native North East he has started a business, Gladiator Nutrition, and is a trainer at Bad Boy Training Centre, a gym and martial arts training facility based in Gateshead.
Your Comments: