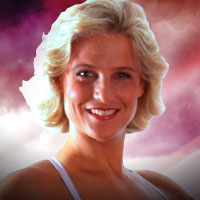 Gold
Name: Lize van der Walt
Born: 2 December 1965 - Capetown, South Africa
Age: 57 years old
Star Sign: Sagittarius
Height: 1.82m Weight: 76kg
Theme Tune: Gold (Spandau Ballet)
Gold is originally from South Africa where she struck gold in the 400 metres as a 21 year old, and was also strong in the 4x400 metres relay. Gold is an adventurer and has climbed Table Mountain in Cape Town, she would like to do it again and hang-glide from the top. In fact it was her spirit of adventure and a thirst for excitement that encouraged Gold to make the long trip to the UK. While working as a fitness trainer friends recognised her potential and persuaded her to try out for the Gladiators show.
In Gladiators, Gold excelled in Gauntlet, Duel and Tightrope in which she could display her undoubted strength. Unfortunately, most of Gold's debut series of Gladiators competition was overshadowed by injury which she sustained in training for the show.
However, she wasn't short of support from the fans and when she did compete, Contenders soon realised all that glistens was certainly- Gold.
Sadly, Gladiators Golden girl was yet again unfortunately kept out of competition for the Gladiators 1998 series due to a nagging injury.
She made a welcome come back in 2000 as part of the UK international team and in September 2000 represented the UK against an almighty force of the South African MTN Gladiators.
Your Comments: