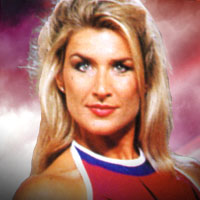 Zodiac
Name: Kate Staples
Born: 2 November 1965 - London, England
Age: 57 years old
Star Sign: Scorpio
Height: 1.75m Weight: 62kg
Theme Tune: Oh Yeah (Yello)
Zodiac has been interested in all sports since childhood, particularly athletics, lacrosse and swimming, but its pole vaulting at which she excels most. Zodiac has since become a champion pole-vaulter, becoming the British record holder in pole vault and has competed at international level.
She improved on the sport's Commonwealth record three times during an indoor event featuring Russia against Great Britain and won the AAA pole vault championships in Germany. Overall, Zodiac has broke over 29 British and Commonwealth records and was ranked ninth in the world!
Zodiac was an awesome and very popular Gladiator, excelling particularly in the speed and agility events such as Skytrak, Pursuit, Pyramid, Hang Tough and her speciality- Pendulum. Contenders knew they would see stars when they faced Zodiac!
In the 1996 series of Gladiators, Zodiac was only a bystander due to a previous fall on Pole Axe which made her unable to compete fully in the show and she had to undergo a serious neck operation, which was successful.
Zodiac then left the Gladiators team before the 1997 series, as she was pregnant with daughter, Ella, who's Dad is also former Gladiator Trojan and her godmother is none other than Jet!
Zodiac was married to rugby player Chris Sheasby, and has two sons, Kai and Luca.
Your Comments: