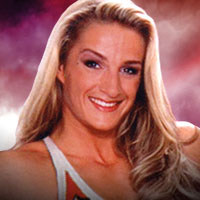 Fox
Name: Tammy Baker
Born: 12 April 1972 - Southampton, England
Age: 51 years old
Star Sign: Aries
Height: 1.75m Weight: 67kg
Theme Tune: Foxy Lady (Jimi Hendrix)
Fox has been a keen athlete since the age of ten and at eighteen started training for the 400m event but due to a bad foot injury gave up running as a career. For a couple of years Fox switched to bodybuilding.
Nowadays, she specialises in the 800 and 1500 metres, heptathlon and the long jump. Fox also enjoys the 'Ultra Fit' competitions and 'Boxercise' which is a combination of boxing and aerobics. Outside of Gladiators, Fox is also a personal trainer, sports therapist and nutritionist and a qualified beauty therapist.
Fox still competes regularly in sports events. She was placed first in the Hampshire Cross Training Championships '98, 12th in the 1997 British Indoor Rowing Championships and went to the World Indoor Rowing Championships 98 in the USA. She won the Miss South Britain '98 figure show and was 5th in the Miss UK Figure Finals '98.
Fox is one very tough Gladiator, not only does she have the power and skill for the Duel and Sumo Ball, but she also has the agility and speed for Powerball and Hang Tough. Contenders should beware because Fox is on the prowl!
Fox was part of the UK international team that competed against South Africa in the Springbok Challenge 2000. She was voted toughest Gladiator by the production team and impressed the producers so much that they signed her up for their next domestic series. Fox moved to South Africa, and with fellow MTN South African Gladiator Giant, was the co-publisher and editor of the health and fitness publication 'M Magazine'.
Since returning to the UK, Fox is now married to Rob and has two children. She is the Head of Retail Academy for The Body Shop.
Your Comments: