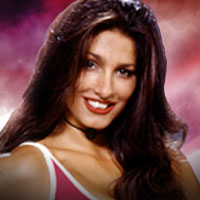 Jet
Name: Diane Youdale
Born: 13 February 1970 - Billingham, England
Age: 53 years old
Star Sign: Aquarius
Height: 1.67m Weight: 58kg
Theme Tune: The Power (Snap!)
At an early age Jet took up gymnastics and was the North of England Junior Champion for four consecutive years. Jet gave up gymnastics at 13, and took up dance at the Darlington Arts Centre.
She branched out on jazz and contemporary dance, and then again broadened her horizons to do some choreography and acting. Jet joined the Studio Centre in London and graduated. She also has two diploma's in Performing Arts and Fitness and Exercise, plus an RSA in teaching exercise to music.
Jet's skill in the Gladiators events, good looks and fantastic personality made her one of the most popular Gladiators of all time.
Unfortunately Jet's Gladiator career came to a sudden end during the 1996 Live Shows in Wembley Arena, London. She was competing on the Pyramid and as she tackled the Contender she fell awkwardly, trapping nerves in her neck. Jet decided it was time to move on as she no longer could put 100% into the show.
Jet now spends more time devoted to counselling young people who are suffering from eating disorders, Jet herself suffered from bulimia from the age of 14 until 19. After gaining a degree in Psychotherapy and NLP training she also spends time working as a therapist. She joined Channel Five's Trisha Goddard chat show as a guest therapist. In 2013, Jet became a psychotherapist on Big Brother's Bit On The Side, analysing the housemate's behaviour within the Big Brother House.
Although she didn't compete in the 2008 revival of Gladiators, Jet returned to our screens as a behind the scenes reporter, alongside Hunter.
Jet is now the host of the brand new Gladiators podcast series, The GladPod.
The GladPod:
Your Comments: