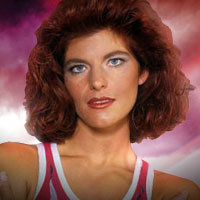 Flame
Name: Kimbra Leanne Standish née Frazier
Born: 11 June 1965 - Oregon, USA
Age: 58 years old
Star Sign: Gemini
Height: 1.83m Weight: 64kg
Theme Tune: Fire (Arthur Brown)
Flame was a competitive swimmer and competed in many track and field events. She has many medals and trophies to her name and was also an Oregon State Championship swimming finalist. Water skiing, scuba diving, softball and cross training are just some of her many hobbies to keep fit.
She arrived in the UK from her native America after earning a BA in Business Administration. After completing her University course she moved to the UK, where she had spent a six month University exchange.
Flame was the first Gladiator not to come from a bodybuilding background, although she proved her versatility by competing in a variety of Events which included Atlaspheres, Hang Tough, Swingshot and Duel.
She was a fiercely competitive Gladiator and didn't like any Contender to win against her. Flame was also known to get pretty riled when a pugil stick was put in her hands!
In 2008, Flame sensationally returned to the Gladiators arena to compete against the new breed of Gladiators in the special episode The Legends Return. Flame, along with female Gladiator Legends Lightning, Rebel and Rocket, successfully managed to beat the new female Gladiators and won £5,000 for the Children's Leukemia Charity.
Flame lives in London with her husband Tristan, twin boys Harrison and Jordan and daughter Madeleine.
Your Comments: