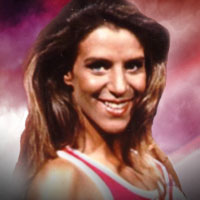 Laser
Name: Tina Andrew
Born: 1 July 1972 - Johannesburg, South Africa
Age: 51 years old
Star Sign: Cancer
Height: 1.88m Weight: 70kg
Theme Tune: Killer Queen (Queen)
Laser, originally from South Africa, was working as a secretary in Reading, England when she saw the Gladiators show on TV and as a fitness enthusiast knew she had to be part of it. She joined the UK Gladiators team in 1996 after auditioning to be a Contender along with her husband, Peter. She impressed Gladiators bosses so much at the audition that she was actually chosen to be a new Gladiator.
Laser was a very tough Gladiator excelling in all of the events she competed in, particularly Duel, Powerball, The Wall and Suspension Bridge. Her aggression and determination to win proved her to be one of the toughest UK and International female Gladiators. She was a firm fan favourite and really appreciated all the support her fans had given.
In 1997, Laser competed for her native South Africa as a Gladiator called Sheena, in the Springbok Challenge. Through her experience of being with the UK Gladiators team, she was one of their best Gladiators, putting up excellent fights in all of the events she competed in.
Since Gladiators, Laser and her husband relocated to America and have two children called Michael and Michaela. Michael is a competitive swimmer and Laser's husband Peter is his coach, Peter was a diver in the South African Navy and also an accomplished swimmer. Michael won the gold medal in the 50 meter backstroke at the 2015 FINA World Junior Swimming Championships in Singapore, breaking the Championships record in both the heats and the final. The 6'5" athlete also won the silver medal in the 50 meter freestyle and 50 meter butterfly events as well as reaching the final in four other individual events. FINA named him male swimmer of the meet. The family hopes he will reach his goal of possibly racing at the 2016 Summer Olympic Games in Rio de Janiero and toward the 2020 Summer Games in Tokyo. Laser's daughter Michaela also swims, competitive sport and love of competition obviously runs in the blood of this family.
The GladPod:
Your Comments: