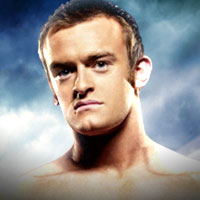 Oblivion
Name: Nick Aldis
Born: 6 November 1986 - Norfolk, England
Age: 36 years old
Star Sign: Scorpio
Height: 6' 3" Weight: 16st
Theme Tune: Club Foot (Kasabian)
Leaves nothing in his path - extinguishes his opposition.
Oblivion has been a professional wrestler since the age of 16, performing for All Star Wrestling. He was one of 60 athletes selected from around the world to train at the pro wrestling NOAH camp in America. Previously, Oblivion played football to county level and had trials for Norwich City, participated in the national swimming championships and played tennis in the national ladder in 2002 and 2003.
Oblivion joined the American professional wrestling promotion Total Nonstop Action Wrestling in November 2008, under the ring name Magnus. He is a former one-time TNA World Heavyweight Champion, two-time TNA World Tag Team Champion and one-time IWGP Tag Team Champion.
Oblivion and fellow wrestler Mickie James welcomed their first child, a boy named Donovan Patrick Aldis in 2014. Oblivion and Mickie were married on December 31, 2015.
Your Comments: