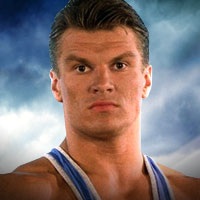 Hawk
Name: Aleks (Alex) Georgijev
Born: 16 March 1968 - Cardiff, Wales
Age: 55 years old
Star Sign: Pisces
Height: 1.85m Weight: 108kg
Theme Tune: Holding Out For A Hero (Bonnie Tyler)
Hawk began his sporting career at the age of 14 by playing rugby. He turned to athletics for a more individual sport and his height and natural strength made him an ideal long-jumper. He went on to represent Cardiff Amateur Athletic Club at long-jumping.
Hawk started weight training, to strengthen up his legs he found it appealed to him much more. He retired from long-jump at 18 and began to focus on weight training. He entered local bodybuilding shows and was twice named Mr Wales.
Hang Tough, Swingshot, The Wall and Atlaspheres were Hawk's specialist events in the Gladiators arena. He had the sheer might with the agility of the winged predator he was named after to succeed against many a Contender.
A determined and very able Gladiator, Hawk's specialist Gladiator training consisted of hanging from a bar for up to fifteen minutes!
After Gladiators, Hawk, who has two children Carlyjayne and Tyrus, became a Police Constable in Merthyr, Wales. Nowadays, he runs his own gym called The Edge in Wales.
Your Comments: