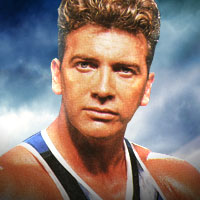 Warrior
Name: Michael Ahearne
Born: 30 December 1960 - Merseyside, England
Age: 62 years old
Star Sign: Capricorn
Height: 1.96m Weight: 132kg
Theme Tune: You Ain't Seen Nothing Yet (Bachman-Turner Overdrive)
Warrior played a lot of rugby at school and he played in the England Colts Under 19's English RUFC. He did trials for the English team and by the age of 21 he was ranked 5th in the country in his age group, he was also a junior ranked decathlete.
Warrior progressed into senior rugby and started lifting weights. He soon got a taste for bodybuilding and went on to win the Natwest Bank British Bodybuilding competition and became the overall North West Britain Title holder and runner-up Mr Britain. He represented Britain in the European Bodybuilding Championships (third place) and the Mr Universe competition, he had won over 15 titles.
Warrior was known as one of the most mighty Gladiators, he was tough and strong and contenders feared facing him! Although he excelled in events such as Powerball and Tilt, he also climbed The Wall even though he was the heaviest UK Gladiator.
Inside Gladiators arena he is known for his skill, outside he starred in Channel 4's production of David Gale's opera 'The Empress and Facts.' in which he starred in the leading male role.
He is now concentrating on his acting and singing career and has opened his own gym in Merseyside.
Your Comments: