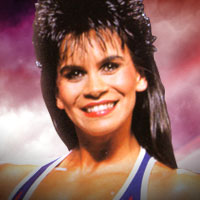 Falcon
Name: Bernadette Hunt
Born: 6 November 1963 - Brighton, England
Age: 60 years old
Star Sign: Scorpio
Height: 1.70m Weight: 67kg
Theme Tune: Breakthru (Queen)
At 18 years old, Falcon was a dancer. She was accepted at the London Contemporary Ballet School, but sadly, her plans were scrapped when she suffered a back injury. Falcon then started training to become an aerobics teacher.
Her college lecturers spotted her potential and recommended she should take up bodybuilding. Within months she had entered and won her first contest, Miss Natural Health 1992. She went on to win other titles, which include: Miss Novice Britain, Miss London and Home Countries 1992 and Miss South Britain.
Falcon was a truly all-round Gladiator, turning her hand to any events in the Gladiators show. Her mixture of power and skill meant it took one formidable contender to ruffle her feathers. Win or lose Falcon was always there to congratulate them.
Falcon is regarded by fans as the nicest UK Gladiator; she always has time to chat and sign autographs. Falcon also helped many good causes, including Help the Aged and Children with Leukaemia and also regularly attended fundraising events.
She spent her time as a fitness instructor holding classes at Basingstoke Sports Centre.
Falcon has two children, her son Adam and daughter Angel.
Falcon, Bernadette Hunt, sadly died on the 14th March 2023, aged 59, after battling cancer for several years.
Your Comments: