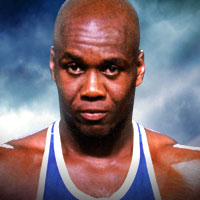 Raider
Name: Carlton Headley
Born: 17 September 1963 - Barbados
Age: 60 years old
Star Sign: Virgo
Height: 1.91m Weight: 105kg
Theme Tune: Jingo (Candido)
Raider is a former national Tae Kwon do champion with a 1st degree Black Belt, he won the British open title for three years running.
Before joining the toughest team on television, Raider was a youth worker in inner city London, working with tough kids and trying to put them back on the straight and narrow. He progressed onto become a secondary school PE teacher in South London.
Raider was a tough Gladiator and was well known for his aggressive and powerful performances in the arena. He had the speed and strength in order to excel in events such as Powerball, Duel and Joust. He was also a force to be reckoned with in Atlaspheres, in which he was known as 'The Rage In The Cage!'.
Raider, who has two daughters, was normally a cool combatant but he knew a raiders business was to attack, and that's what he did. He was relentless nd had great determination, he thought his Gladiator name suits his personality perfectly. This Raider was certainly powered up and ready to go!
He was actually one of the few Gladiators to be given a red card by John Anderson after a fiery Gauntlet attack, this resulted in him being banned for one show.
Your Comments: