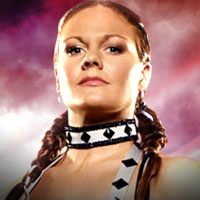 Battleaxe
Name: Shirley Webb
Born: 28 September 1981 - Whitley Bay, England
Age: 42 years old
Star Sign: Libra
Height: 5' 9" Weight: 13st 12lbs
Theme Tune: You Shook Me All Night Long (AC/DC)
A weapon of war, domineering, aggressive and indomitable - a warrior queen.
Battleaxe was born in Whitley Bay, Tyne & Wear, England and she is the daughter of Scotland's 1970 Commonwealth Games hurdler Andy Webb. She graduated from Edinburgh University with a BSc degree in Mathematics.
She is a former hammer thrower for Scotland and Great Britain. Her record of major championships includes Olympic Games (2004), World Championships, European Championships and 2 Commonwealth Games (2002, 2006) where she competed for Great Britain and Scotland respectively. In 2005 she won the European Cup for Great Britain. Her personal best throw is 67.58 metres which is the Scottish record, and places her second on the British outdoor all-time list.
Battleaxe was previously a spring board and high board diver and she is a professionally qualified dancer, specialising in ballet, tap and modern. She coaches trampoline, diving, gymnastics and athletics and she was an Ambassador for Glasgow's successful 2014 Commonwealth Games bid.
She is a patron for Meningitis UK after being struck down with the viral form of meningitis a couple of years ago. Battleaxe saw first hand how quickly the disease can strike.
Your Comments: