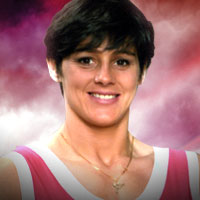 Blaze
Name: Eunice Huthart
Born: 2 November 1966 - Liverpool, England
Age: 57 years old
Star Sign: Scorpio
Height: 1.70m Weight: 64kg
Theme Tune: Every Little Thing She Does Is Magic (The Police)
Blaze was working as a floor manager in her local MacDonald's store when she decided to try out for the 1994 series of UK Gladiators. She was so determined and skilled that she went on to become the female winner of the 1994 UK series and went on to represent her country in the 1994 International Gladiators series, and she went on to win the title of female International Champion!
After the filming of the Gladiators she was made the European kickboxing champion and was ranked number three in the world. In 1995 she was chosen to be a new Gladiator for the Sheffield Live Shows, due to her outstanding skills in the arena and the popularity she had gained.
As a Gladiator she excelled in Atlaspheres and Pursuit as she could enjoy being the hunter instead of the prey!
Her role as Blaze was short lived due to the fact she wanted to represent the UK as a contender in the 1995 Ashes series, in which she came runner-up. She regained her title in the Battle Of The Champions also in 1995, she decided it was time retire from competing in Gladiators while she was at the top. However, she returned in 1996 as a Northern Contenders team coach.
She then went on to become a stunt woman after being spotted in the Gladiators, she has since starred in Golden Eye, Avengers and Titanic, to name only a few.
Your Comments: