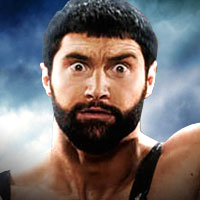 Goliath
Name: Barri Griffiths
Born: 13 January 1982 - Tremadog, Wales
Age: 41 years old
Star Sign: Capricorn
Height: 6' 6" Weight: 19st 9lbs
Theme Tune: n/a
A man-mountain with brute force. As frightening to look at as he is unstoppable. Contenders will always be in his shadow - because his shadow's so big!
Before Gladiators, Welsh speaking Goliath studied construction management at Coleg Menai Dwyfor, Pwllheli and Cardiff University. He then worked as a carpenter for his father's carpentry/undertaking business before a brief spell as a footballer playing centre-back for Porthmadog Town in the Welsh Premier League before a knee injury ended his career.
A keen weightlifter, he trained with Welsh wrestling legend Orig Williams and All Star Wrestling promoter Brian Dixon after attending a wrestling show in 2006 where the coaches encouraged him to start wrestling. In 2007, Goliath became a full time wrestler under the names 'Celtic Warrior' and 'Smackdown Warrior'. He went on to compete across the UK, Europe and Africa with around 100 bouts under his belt.
He was initially due to be known as Colossus, one of the original Gladiators on the re-launched series on Sky1 but had to wait until Series 2 to make his debut as Goliath, the tallest and heaviest of all the Gladiators.
In the arena, Goliath dominates in the contact games such as Duel, Gauntlet, Powerball, Earthquake and Suspension Bridge.
Since Gladiators, Goliath has been signed to a developmental contract with the WWE and now lives in Tampa, Florida. He debuted in their developmental territory, Florida Championship Wrestling (FCW) as 'Mason Ryan'.
Your Comments: