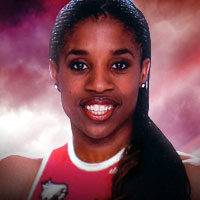 Rebel
Name: Jennifer Stoute
Born: 16 April 1965 - Bradford, England
Age: 58 years old
Star Sign: Aries
Height: 1.80m Weight: 70kg
Theme Tune: Rebel Yell (Billy Idol)
Rebel has been representing Britain in international athletics for over 10 years. She was a 200m Commonwealth Games finalist in 1986, and in 1988 after a highly successful number of meetings was a finalist in the 4x400m Olympic Games.
In the 1990 Commonwealth Games she won a gold medal in the 4x400m, a silver in the 4x100m and was a finalist in 200m and 400m. In the 1990 European Games, she went on to win a bronze medal in the 4x400m. In 1992 she competed in the Olympic Games as a semi-finalist in the 200m and won a bronze medal for the 4x400m. In 1993 a serious hamstring injury halted her career for two years.
In 1996 she joined Gladiators, although she has continued with athletics, recording a personal best time of 23:55 seconds for the 200m. She also spent time training young athlete Vernicha James.
She is one of the most determined Gladiators, excelling in all of the events, especially Powerball, Pendulum and The Wall, in which she has only been beaten once. Her personality is vibrant, fiesty and she always spends time to talk and listen to her fans.
Rebel appeared in the Ridley Scott blockbuster movie Gladiator, which was filmed in Malta.
In 2001, she became a proud mother of Alicia and in 2005, Renee. Rebel is still heavily involved with track and field and sports promotion. She also has a keen interest in the well-being of other athletes and helped to set up a successful sports management agency.
The GladPod:
Your Comments: