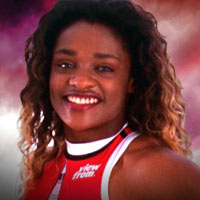 Rocket
Name: Paulineson (Pauline) Richards
Born: 30 June 1968 - Wolverhampton, England
Age: 55 years old
Star Sign: Cancer
Height: 1.82m Weight: 77kg
Theme Tune: Firestarter (The Prodigy)
At 17 years old Rocket played hockey for England and was also selected to play netball for her country. She turned to athletics and joined Birchfield Harriers Athletic Club and soon reached international standard at 400 metres and the heptathlon.
She won a silver medal in the National Indoor Championships, silver in the Combined Event Championships '94 and the Indoor Championships '96. Rocket has also represented Great Britain in an international events, was triple gold medallist in the Scottish East District Championships 1997, British AAA's Indoor Pentathlon Gold Medallist 1997 and also won the 100 metres in the Florida Relays in Gainesville, achieving her personal best time.
Rocket was an excellent all-round Gladiator, particularly excelling in the strength events such as Duel and Powerball and the speed events such as Pendulum and Pole-Axe. She brought lots of enthusiasm and aggression to the Gladiators team.
Rocket missed competing in the 1998 Gladiators series as she was busy training in order to compete in the 1998 Commonwealth Games held in Kuala Lumpur. Her coach was none other than Gladiators Referee John Anderson.
In 1999, along with fellow Gladiators Rio and Rebel, Rocket appeared in the Ridley Scott film 'Gladiator' which was filmed in Malta.
Your Comments: