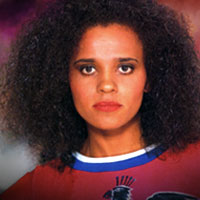 Phoenix
Name: Sandy Young
Born: 5 August 1965 - Dudley, England
Age: 58 years old
Star Sign: Leo
Height: 1.73m Weight: 59kg
Theme Tune: When The Going Gets Tough (Billy Ocean)
Phoenix started bodybuilding to tone up her body after giving birth to her son, Lee. Eight months later she won the bodybuilding title Miss UK during 1990-91. She also went on to win other titles which include: Miss Midlands between 1990-92, Miss Oscar 1991, came second in the prestigious NABBA Miss Figure Competition and even represented Britain in the Miss Universe Competition.
Her style of bodybuilding even had her appear in a television documentary about feminine bodybuilding. If all that wasn't enough Phoenix is also an expert Thai and kick boxer!
In the Gladiators arena Phoenix was focused and determined. Although she was one of the smallest female Gladiators she still had the strength, speed, agility and skill to succeed against the toughest of Contenders.
Her specialty events were The Wall, Swingshot, Hang Tough and Danger Zone. She was also unbeaten in two of the new events at the Wembley Live Shows in 1993.
Phoenix, a mum of two, works as a florist in the West Midlands.
The GladPod:
Your Comments: