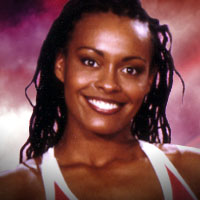 Rio
Name: Jane Omorogbe
Born: 20 September 1971 - Newcastle, England
Age: 52 years old
Star Sign: Virgo
Height: 1.87m Weight: 83kg
Theme Tune: Rio (Duran Duran)
Before joining the Gladiators team Rio was an ambulance driver and has a certificate in advanced first aid. She has modelled bridal gowns for Geddes-Muir Designs and in 1995 Rio entered the Miss Wessex beauty contest. She won the title of Miss Wessex and was entered into the Miss UK final. Although she didn't win the title she says it was a great experience. In 1996 she was in the top 6 of the Babe of '96, for her knockout smile and personality.
Rio is the tallest of all the female Gladiators, she is also one of the toughest and has a pretty mean green belt in Taekwondo. She is excellent on Suspension Bridge, Gauntlet and is undefeated in the Duel, despite she has a fear of falling! Rio says that it is pure fear that keeps her feet planted firmly on the podium! With training on trampolines and indoor climbing walls, she managed to overcome her fear.
Another factor that Rio had to overcome was hitting people. She admits she hates hitting people and whenever she did she would say sorry! However, when she gets on the Duel platform Rio just hits them for the full 30 seconds and apologises afterwards!
Rio appeared in the Ridley Scott blockbuster film Gladiator as an Amazonian warrior on a mission to kill, unluckily her character came to a very gruesome end!
Rio was part of the UK international team and went to compete against South Africa in the Springbok Challenge 2000. She became a regular television presenter on shows such as Bidup.tv and many motorbike shows such as 'Revved Up' and 'Pulling Power'.
Nowadays Rio lives in Belgium and works as a motorcycle journalist, author and works for motorcycle website MaxxMoto.
Your Comments: