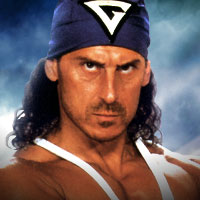 Wolf
Name: Michael van Wijk
Born: 30 September 1952 - Bombay, India
Age: 71 years old
Star Sign: Libra
Height: 1.83m Weight: 95kg
Theme Tune: Wild Thing (The Troggs)
Wolf has always been an avid bodybuilder but before Gladiators, Wolf was already appearing on television in shows such as London's Burning. During Gladiators Wolf made it big in the film industry starring as a bad guy in the film The Bruce.
Wolf has been the resident bad guy of the UK Gladiators since the first series and is one of the most popular Gladiators ever. As contenders, the audience and in some cases the Gladiators presenters have found out- Wolf hates loosing. The Wolf-Man is probably the meanest Gladiator in the world!
There is only one man in the Gladiators arena that can control him and that is referee, John Anderson. He may be the oldest UK Gladiator but he has proved that he can still compete with the best.
Wolf, who owned and ran his own health club, can often be seen roller blading or snow boarding in his spare time. He is married to his long-term girlfriend Paula and is a doting dad to their son, Nico, who was born in 1998. Wolf is also a devoting dad to his other son, Dean, who lives with his Mum in Ibiza.
After Gladiators, Wolf was still very much a celebrity. He was part of the Sky One television show Toughman and regularly appeared on other TV shows such as The Weakest Link. Nowadays, Wolf keeps more of a low profile and lives in New Zealand with his wife Paula and their four children. They run an indoor play centre called Chipmunks Playground and Cafe which looks after 3 to 12-year-olds.
In 2008, Wolf returned to the Gladiators arena to compete in 'The Legends Return' special show against Sky 1's new Gladiators, making a further appearance in 'The Legends Strike Back' where he officially retired from competition. Controversially, he switched allegiance in 2009, appearing this time in the role of team coach for the new breed of Gladiators. He briefly came out of retirement to compete in 'The Legends Last Stand' against Trojan on Earthquake.
The GladPod:
Your Comments: