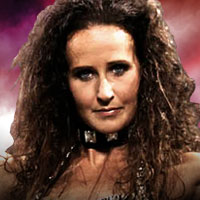 Cyclone
Name: Donna Williams
Born: 4 March 1980 - Bury St Edmunds, England
Age: 43 years old
Star Sign: Pisces
Height: 5' 4" Weight: 9st 3lbs
Theme Tune: n/a
Fast and furious, Cyclone leaves destruction all around her.
Cyclone is a well-rounded athlete. At the age of 12, she secured a gymnastics scholarship at Eton College. She's also attended circus school and is a highly skilled acrobat who has a wide variety of performances which include abseiling, trapeze, and acro-balance. Her speciality is the solo circeaux and she was also selected to perform on the trapeze at the Millennium Dome. One of her nicknames is 'Monkey Feet', from her time as a trapeze artist, and she even has a monkey tattooed on her foot!
Cyclone is a black belt in kick-boxing and is passionate about making her mark as a stuntwoman. She has worked as a stunt double in the films Bourne Ultimatum, Casino Royale and Harry Potter.
Initially, Cyclone was a reserve Gladiator and made her debut during the semi finals and final of the 2008 series when she stepped in for an injured Enigma. Due to her strong performances and popularity with the fans she became a fully-fledged Gladiator for the 2009 series. She specialises in Hang Tough and The Wall.
Don't underestimate the force of nature that is Cyclone!
Your Comments: