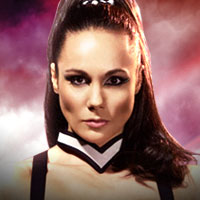 Enigma
Name: Jenny Pacey
Born: 5 February 1983 - Lincoln, England
Age: 40 years old
Star Sign: Aquarius
Height: 5' 11" Weight: 10st 4lbs
Theme Tune: I Feel You (Depeche Mode)
Mysterious and beautiful, contradictory and unpredictable, Enigma is impossible to capture.
Watch out boys! Enigma takes no prisoners! Possessing great strength, power, integrity and a little bit of cheekiness, she is musterious and dark, a woman of few words - an Enigma!
The amazing Enigma has represented Great Britain in the long jump and pentathlon, and bobsleighed to Olympic level at the 2006 Winter Olympics in Turin, Italy. She has been ranked 6th in the long jump in the UK. She has a BSc (Hons) in Sport and Exercise Science from Loughborough University, and is fully qualified as a personal trainer.
Enigma is also a sports model and has been photographed for brands including ASICS, Adidas, Reebok, Mizuno and Nike. She is also currently training to be a stunt woman!
Her favourite events are Hang Tough and anything to do with running, jumping and wrestling!
In 2012, she became engaged to fellow Gladiator and business partner Doom. They are the UK's leading fitness celebrity couple and have released an array of fitness DVD's under their brand 'Pace & Go'.
The GladPod:
Your Comments: