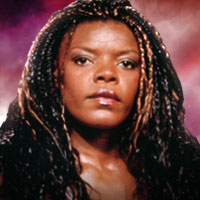 Nightshade
Name: Judy Simpson née Livermore
Born: 14 November 1960 - Kingston, Jamaica
Age: 62 years old
Star Sign: Scorpio
Height: 1.83m Weight: 70kg
Theme Tune: Unbelievable (EMF)
Nightshade is regarded as one of Britain's greatest all-round female heptathletes, competing in the Commonwealth Games, European Championships, World Championships and she is a three time Olympian.
In 1982 she was a Commonwealth Silver medallist; in 1983 became Commonwealth Record Holder; in 1986 she was Commonwealth Gold Medal and European Bronze medal holder; and in 1990 won the Commonwealth Bronze medal. She was ranked fifth with the highest placing in the Olympic Games.
Nightshade is also a First Dan Black Belt in Tae Kwon-Do. She also spends time working for the Duke of Edinburgh Award and is an Honorary President of the Women's Sports Federation.
Renowned as was one of the toughest female Gladiators ever, her determination was displayed during all of her performances. However, her particular strengths were in Duel, Pole-Axe and Suspension Bridge.
Unfortunately, she contacted a strong virus during filming in Australia for the Ashes series. After support from her husband Robin and fellow Gladiators she carried on in the show until 1996, but then decided she could no longer put in 100% to the show and that it was time to retire.
Your Comments: