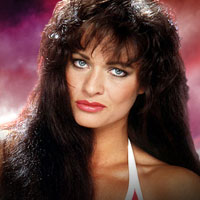 Scorpio
Name: Nikki Diamond
Born: 15 March 1965 - Isle of Man
Age: 58 years old
Star Sign: Pisces
Height: 1.75m Weight: 66kg
Theme Tune: All Right Now (Free)
Scorpio is a former inter-school high-jump champion and gymnast and she also is a honours drama graduate. She started her modeling career at the age of 14 going on to win the title of Miss Isle of Man and competing in the Miss World Contest. Later, she started developing on her physique by bodybuilding, which was another of her passions.
Even before Gladiators, Scorpio appeared in front of the camera in numerous cameo roles in a variety of movies which include Nuns On The Run, Slipstream, Mountains On The Moon and The Meaning Of Life.
In Gladiators, Scorpio was a very competent and focussed Gladiator, excelling at a wide variety of events including The Wall, Powerball, Suspension Bridge and Hang Tough. Contenders knew that she had superb upper body strength and great tactical awareness making her a very tough Gladiator to beat.
Scorpio, who has a daughter called Emily, didn't compete in the 1995 series of Gladiators due to a back injury she sustained while appearing in pantomime outside of Gladiators. She then decided that it was time to move on from Gladiators to other things and pursue a career in acting.
After Gladiators, Scorpio continued modelling and appearing on TV, including being a roving reporter for Watchdog and making 48 episodes of the childrens' programme, Demolition Dad, with Peter Duncan. She also wrote a book, Body Dynamics.
Your Comments: