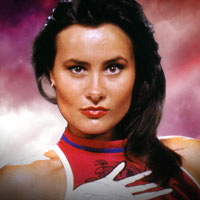 Vogue
Name: Suzanne Cox
Born: 19 March 1972 - Hertfordshire, England
Age: 51 years old
Star Sign: Pisces
Height: 1.67m Weight: 63kg
Theme Tune: Vogue (Madonna)
Vogue joined a local gymnastics club at a young age and reached regional level. She is now a qualified coach and judge. Vogue also competed in athletics in county meetings in 100 metres, shot putt and long jump. At college she gained a PEA and RSA certificate in Exercise and Health Studies which qualifies her to teach aerobics and circuit training.
Vogue progressed into competitive aerobics, she competed at International and European level and was the UK Champion in 1991, '92, '93 and '94. She was also European Champion in 1993 and was ranked 7th in the world at the World International Championships in Las Vegas.
Vogue is a firm favourite with fans, dazzling them with a display of back-flips upon entering the arena. She excels in Hang Tough and Powerball, although she can turn her hand to any event.
Most recently Vogue has done some modelling, presenting a television show called The Fix and inspiring a computer game featuring all-action cyberbabe called Silver. She also had a fashion shop 'COR' which she co-ran along with Saracen and former Gladiator Panther. Even with all this she has found time to record many fitness videos.
Vogue was also part of the UK international team and headed off to compete against South Africa in the Springbok Challenge 2000. Her husband is 1997 Gladiators Quarter Finalist Mark Roberts, they have a daughter called Amber and a son called Flynn.
The GladPod:
Your Comments: