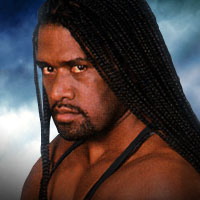 Vulcan
Name: John Seru
Born: 12 January 1964 - Fiji Islands
Age: 59 years old
Star Sign: Capricorn
Height: 1.91m Weight: 120kg
Theme Tune: Boom! Shake the Room (DJ Jazzy Jeff & The Fresh Prince)
Vulcan has been actively involved in bodybuilding and weight training for the past 16 years and was also involved in Rugby Union. Vulcan achieved national stardom in Australia after winning the title of Australia's Heavy Weight Champion. He has been through the tough American pro-wrestling circuit and uses the name the 'Fijian Warrior'. He is associated with a professional wrestling school in Florida, USA and has participated with many events and organisations, including: International Championship Wrestling Alliance, World Wide Wrestling, World Championship Wrestling Australia, Mega Pro Wrestling International, and more.
Vulcan was the veteran bad boy of Australian Gladiators, but when the show was axed in 1997 he was recruited into the UK team in 1998 to give Wolf a run for his money.
He is totally awesome on the Duel platform and in the Gauntlet, but if he looses everyone knows about it, as the Contenders and Gladiators audience have come to find out!
After being spotted in the UK Gladiators series, he was approached to star in the 1999 James Bond film 'The World Is Not Enough', starring as Elektra King's loyal bodyguard and henchman Gabor.
Your Comments: