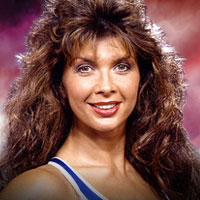 Panther
Name: Helen O'Reilly
Born: 14 October 1961 - Blythe, England
Age: 62 years old
Star Sign: Libra
Height: 1.70m Weight: 66kg
Theme Tune: Black Cat (Janet Jackson)
Although Panther is a champion bodybuilder, at school she hated sports- but at the age of 27, Panther started to go to the gym and loved it! She worked hard and became one of Britain's top women bodybuilders. She has reigned as: Miss Central Britain, Miss Europe, Miss North Britain, Miss England, Miss World, Miss Great Britain, Miss Russia and Miss Universe.
Coming from such a successful bodybuilding background, Panther was often seen in the more physcial Events such as Gauntlet, Atlaspheres, Joust and Whiplash.
Disaster struck for Panther in the 1994 (3rd series) 1st quarter final. She was involved in one of the most horrific accidents in the shows history. Panther was competing on the Tilt event and she started to slip forward on the table, suddenly it tilted and Panther fell head first, face down into the crash mat below. Her legs went over her head! Panther sustained serious neck and back injuries which put her out of action for 5 months- she thought her Gladiator career was over.
Slowly, she ventured back into the gym and started to build her body back-up, with the help of her husband Sean and the Gladiators. To the amazement of everyone she returned to the show, but after the 5th series in 1996, Panther decided to hang up her lycra outfit and open her own fashion shop 'COR' in Sutton, Surrey with fellow Gladiators Vogue and Saracen.
Nowadays, Panther runs her own gym aptly called Panthers Gym in Uxbridge.
The GladPod:
Your Comments: