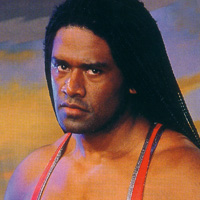 Vulcan
Name: John Seru
Height: 191 cm
Weight: 120 kg
Country: Australia & UK
Years: 1995 - 1996, 1998 - 1999
It's a long way from Fiji to the Gladiators arena, but for Vulcan it has been a journey of personal fulfilment; a journey that has taken him through the tough American pro-wrestling circuit to the crowning achievement of being named Australian Heavyweight Pro-Wrestling Champion title-holder.
Like his mythical namesake who forged lightning bolts on his anvil, the Vulcan, is forging a formidable reputation among his fans, fellow Gladiators and opponents alike.
He has gained his level of physical perfection with ten power-packed years of weight training and he has managed his own gym, helping others to achieve their personal goals.
This Gladiator prefers his sport head-to-head and it is no suprise his favourite gladiatiorial combat is the punishing Duel. A dedicated sports fan, Vulcan's favourite spectator sport is boxing.
Vulcan was the best known for his wild bad boy antics in the Gladiators arena. He was the 'King of Duel' and he was the only Australian Gladiator to knock his opponent off in Joust.
Due to his explosive rivalry with UK Gladiator Wolf and appearances in the International Gladiators and Ashes series, he became a favourite with UK fans and joined the UK Gladiators team in 1998.
After being spotted in the UK Gladiators series, he was approached to star in the 1999 James Bond film 'The World Is Not Enough', starring as Elektra King's loyal bodyguard and henchman Gabor.
Your Comments: