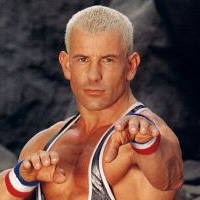 Condor
Name: Alistair Gibb
Height: 189 cm
Weight: 96 kg
Country: Australia
Years: 1995 - 1996
To soar like the Condor requires tremendous dedication with athletic training starting from the age of seven, then becoming a schoolboy football champion, plus ten years of martial arts, kickboxing, volleyball, scuba diving and cricket.
A Black Belt karate instructor at 18, ten years later he won the Victorian and Australian Kickboxing Titles. Still the Australian WKA Heavyweight Mauy Thai Champion, Condor says: " I love competition. I am a Gladiator at heart and like to test other mortals and make them rise to the occasion."
But Condor regards the physical as only part of what it takes for success. He also exercises his mind with books and an interest in meditation.
Hi own heroes range from Hulk Hogan and Bruce Lee to Albert Einstein. In other words, the conquest of the Condor begins with the mind.
Your Comments: