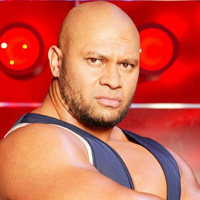 Thunder
Name: Derek Boyer
Height: 191 cm
Weight: 137 kg
Country: Australia
Years: 2008
A storm is coming. Feel the earth tremble. When Thunder rolls, Challengers fall."
A man mountain with a deep resonant voice, he is a force to be reckoned with.
"I'm the biggest, strongest Gladiator to have ever walked into the arena," he says. "I'm unbeatable in combat and will bring anyone down faster than lightning.
"There is a storm coming. Get ready to feel the power!"
Blessed with physical strength, he also has a mind to match his physical prowess.
"I'm a master of strategy and will overcome any Challenger who stands in my way," he says.
Unmoveable and strong, he is the ultimate warrior.
"I'm a juggernaut with one goal - to beat any Challenger before me."
Electrifying, determined, passionate and fearless, Thunder excels at every game. His favourites are Duel, Suspension Bridge, Gauntlet, Hit and Run, Atlaspheres.
"I don't have a favourite," he says. "I've prepared well for each game and every battle with the view of dominating any Challenger."
Like a rock, he is unmoveable and strong with a powerhouse body.
"Facing me will be the ultimate test for any Challenger," he says. "I will sort the men from the boys. So let the games begin!"
Your Comments: