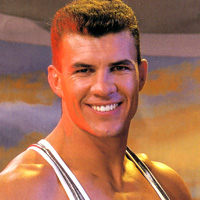 Hammer
Name: Mark McGaw
Height: 188 cm
Weight: 97 kg
Country: Australia
Years: 1995 - 1996
When the Hammer strikes, the blow can be heard right around the Gladiators arena.
Hammer is the ultra athlete. A one-time International Rugby League star and South Sydney Rabbitoh, Hammer has proved himself a true champion in more than 12 State of Origin clashes.
A self-confessed sports fanatic, Hammer has it all: model good looks, consummate sports skills and reflexes, great strength and matchless endurance.
But most of all Hammer has that important winning instinct and the staying power so vital in gladiatorial combat.
Hammer is BIG. A metre tape cannot reach around his Goliath's chest.
Hammer is also brains. An enterprising business man, he has directed his own mobile phone business.
Your Comments: