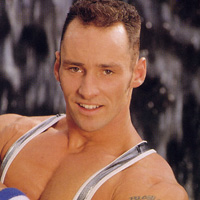 Commando
Name: Geoff Barker
Height: 182 cm
Weight: 94 kg
Country: Australia
Years: 1995 - 1996
Commando is potentially the most dangerous Gladiator of them all because he is unpredictable, quirky and like Mel Gibson's character in Lethal Weapon, acts as if he has nothing to lose.
Commando is a connoisseur of combat. He uses the training, discipline and mental toughness gained during his years as a Royal Marine Commando to surgically remove the advancing challengers from The Wall or rings in Hang Tough.
His rigorous workout schedule involves Gladiator game specific training, such as running up sand dunes for Pyramid and various obstacle courses for the agility based Pursuit. His dedication to his training has ensured that no Challenge slips by.
He is cool, calm and collected and is very sure of his ability but is not one to gloat at his win - he is just doing his job!
He is married to Australian model Bessie Bardot and has successfully penned a book.
Your Comments: