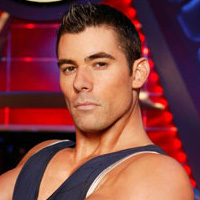 Hunter
Name: Zach Kozyrski
Height: 188 cm
Weight: 95 kg
Country: Australia
Years: 2008
Hunter loves the thrill of the chase - "I always catch my prey."
Accuracy, strategy and stealth are Hunter's trademarks.
"I'm intelligent, calculating and ruthless," he says. "I'm a master hunter capable of snaring anything and anyone."
For him, it's all about the thrill of the chase and closing in for the coup de grace. There's the element of a spider about him in his patience and timing.
"Tactical precision is my main weapon," he says.
"Fast and direct, he enjoys playing Hang Tough, Pyramid and the Wall.
"I love the games that require a certain amount of skill and strategy," he says.
Menacing, calculating and ruthless, Hunter is a force to be reckoned with. He lives by the motto, "You can run, but you can't hide."
"Challengers will try to escape," he says. "But the chances of them getting away are slim."
Hunter is solitary by nature, but scratch the surface and you'll find a larrikin.
A talented all-rounder, he's looking forward to facing off against the Challengers.
"I can climb, swing, tackle and strike no matter what the game," he says.
"It will be a game of survival - not for me but for them."
Your Comments: