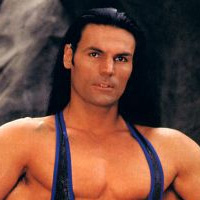 Taipan
Name: Michael Melksham
Height: 183 cm
Weight: 105 kg
Country: Australia
Years: 1995 - 1996
Like his namesake, Taipan is an aggressive opponent. He loves Hang Tough, Pyramid and Powerball. He is not easily avoided nor easily ignored. Taipan lives to win.
"I really enjoy contact sports and competing to win," and adds, just in case it hand't been noticed. "I am very strong and quick considering I'm 183 cms tall and weigh-in at 105 kgs."
He has been the co-owner of a Melbourne Health and Fitness Gym, the culmination of a lifetime's dedication to the physical arts. Before striking out to see the world, Taipan won numerous bodybuilding titles. Among them, Junior Mr Australia, Junior Mr Universe and Mr Indian Pacific.
The years of dedication and daily hard work in the gym are rewarded in every muscle and sinew of Taipan's powerful physique.
Taipan is married to fellow Australian Gladiator Fury.
Your Comments: