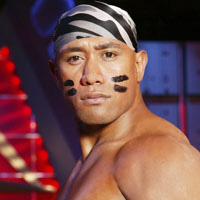 Tank
Name: Bobby Tuimaualuga
Height: 195 cm
Weight: 114 kg
Country: Australia
Years: 2008
A man of action. Challengers don't have the metal to face the Tank.
Merciless, tough and commanding, he is also a proponent of tank-like force when necessary.
"On a battle field, the tank is the foremost weapon of choice," he says. "It can win battles."
Like the powerful combat vehicle designed to tackle enemies head-on, Tank is a formidable opponent.
"I play each game with military precision," he says. "I'm a natural leader because of my brute force and maneuverability."
With unparalleled strength and steely determination, Tank shines best on the ground in games like the Gauntlet and Duel. Opponents will struggle against his crushing force.
"Nothing can stop Tank," he says. "The Tank just keeps rolling."
Combining strength, speed, agility and endurance, Tank plans to steamroll over anything that stands in his way.
"Like every night in the Gladiator arena there is a war to be won - I am here to make it happen."
But to be triumphant, he doesn't need weapons. He thrives on the crowd cheering, "Sir, Yes Sir!"
Your Comments: