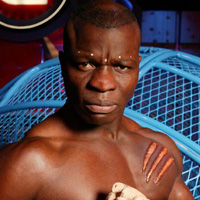 Scar
Name: Michael Gore
Height: 188 cm
Weight: 100 kg
Country: Australia
Years: 2008
Scar bears the marks of battle abd has the strength of many men.
"I have hunted many prey in my adventures," he says. "I am invincible, resilient and always win the fight."
With a proud and commanding presence, Scar unleashes fear in anyone who crosses his path.
"I am a mighty warrior," he roars. "I was born a survivor. I stand tall and proud in the heat of battle."
Extremely agile, Scar is most at home playing Vertigo and Pyramid.
He also excels in Duel, a game that allows him to display his impenetrable strength.
Your Comments: