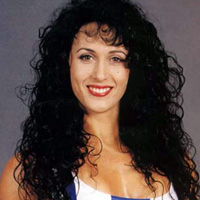 Fury
Name: Julie Melksham (née Saunders)
Height: 170 cm
Weight: 60 kg
Country: Australia
Years: 1995 - 1996
Fast and furious - Fury's daily routine for Gladiators includes two hours of rock climbing and ring work. Her favourite events? Hang Tough and Powerball.
Fury says "I love contact sports and competing to win - especially one on one." She says her strong points are "speed, agility and the desire to win and never give up."
Before Gladiators lured her into the arena, Fury studied acting at NIDA and was for a time a comedy producer.
But it was the driving spirit of the sporting heart of Fury's life that finally won out; a life that began with the Junior Victoria Swimming Championships, in track and field and with the East Richmond Soccer Team.
Her fitness goal? "To increase my upper body strength and my fitness level - train, train, train!!!"
She is married to fellow Australian Gladiator Taipan.
Your Comments: