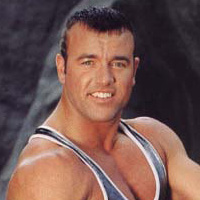 Predator
Name: Tony Forrow
Height: 190 cm
Weight: 115 kg
Country: Australia
Years: 1995 - 1996
Predator is a wild card. Totally unpredictable. He transforms from the focused and deadly serious Gladiator to the clown all in the space of a split second.
That's not to say that he is out of control, lurking beneath that crazy exterior is the rock solid discipline of the urban combat trained tactical response group. He was a member of the NSW Police Force.
He's a hard player who can appreciate the effort a challenger puts into the task of defeating him however, against the Predator it is always in vain.
Predator is a showman and hypes the crowd right up to the second the whistle sounds then it's down to business for this 115kg, 190cm powerhouse.
Predator suffered a cruciate ligament injury during a game of Powerball in Heat 4 of Series 3, he was sidelined for the rest of the series.
Your Comments: