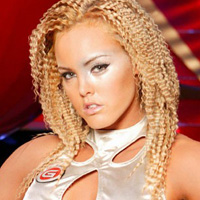 Bionica
Name: Stephanie Lethborg
Height: 173 cm
Weight: 65 kg
Country: Australia
Years: 2008
Bionica is precise, economical and logical in everything she does.
Bionica is able to size up opponents, deduce their weakness and then execute their downfall.
"I'm constantly baffled as to why anyone would bother taking me on," she says. "Challengers can try. But I can only win."
Able to withstand just about anything, Bionica relishes the full-contact games like Pyramid and Powerball.
"When I'm playing these games, you can see my strength and determination," she says.
Disciplined, focused and strong, Bionica embodies both power and grace.
"I'm faster, stronger and more feminine than any other female who has ever existed," she says.
With her steely determination and strength, losing is something that is alien to her. Too strong and focused to be human, she excels at everything she does.
"Winning and achieving my goals is all I know," she says. "If a Challenger is fast, I will be faster. If she is stronger, I will be stronger. No matter what it takes, I always endeavour to win."
Your Comments: