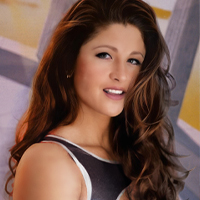 Electra
Name: Roz Forsyth (née Fitness)
Height: 171 cm
Weight: kg
Country: Australia
Years: 1996
Electra was a reserve Gladiator for Series 3 and went on to make multiple appearances across the series, replacing Cheeta. Although she had initially applied to be a Challenger, during training for Gladiators, the production team recognised her talent and decided she was too good to compete against the Gladiators. They wanted her to become one of them!
An early love of sport and fitness led to her becoming a Commonwealth-level swimming champion in 1980, going on to represent New South Wales in netball. Electra was also successful in various bodybuilding and fitness competitions in the 1990s, winning the Australian middleweight class of the Australian Natural Bodybuilding Federation.
In 1996, she made her Gladiatorial debut in Powerball during Heat 5 where she competed alongside Gladiators Blade and Delta. She returned in the fourth Quarter Final, making a successful appearance on Hang Tough. Other events she competed in include Duel, Pyramid Hit &amp Run, Gauntlet and Whiplash. Electra was also selected to compete in the 3-part international series Australia vs Russia and the Army vs Navy mini-series.
For Series 4 of Gladiators, Electra was going to be promoted to full-time Gladiator and was due to be a prominent part of the show. Unfortunately, the Australian Gladiators series was cancelled in pre-production. She then enrolled in training to become a bodyguard at Intercept Training, which reunited her with the Australian Gladiators Assistant Referee and Director of Training, John Forsyth. Having been friends for years, they went on to become a couple.
Working as a bodyguard, Electra has been in charge of looking after the Jacksons and other celebrities such as Billy Joel, Paul McCartney and Corey Feldmann.
She is now married to John and they have two children, Tori and Jackson. A shared love of horses has led them to create the Australian Equine Institute, which offers equine courses in Australia.
Your Comments: