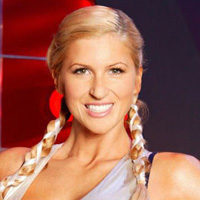 Destiny
Name: Karen Harding
Height: 182 cm
Weight: 73 kg
Country: Australia
Years: 2008
Charming and confident - it is her destiny to win.
Possessing the calm reassurance of someone who can see what lies ahead, Destiny is bold and fearless.
She brims with confidence and loves to toy with her challengers.
"I fear no-one," she says. "I know their fate but do they?"
She's always charming and always smiling because she knows the outcome.
"Don't let my smile and delicate features fool you," she says. "I play tough and I play to win."
Standing six-feet tall, she is statuesque, radiant and powerful. With her height and strength, she excels in Duel, Suspension Bridge, Powerball and Pyramid.
"I can tackle the toughest of challengers," she says. "My height, weight and power are all my strengths. My size is definitely an advantage as is my determination to win."
With her blonde mane tied in wholesome plaits, Destiny combines beauty with power.
"Women can be strong and feminine," she says. "You don't have to sacrifice one to be the other."
There is a natural order in the universe and Destiny is here to maintain it.
"Things will be how they're meant to be," she says. "I will make sure of it. There is a master plan. It's not a matter of chance. It's a matter of choice."
Your Comments: