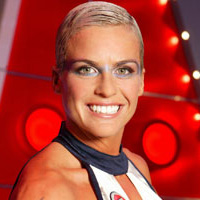 Nitro
Name: Hayley Bateup
Height: 168 cm
Weight: 65 kg
Country: Australia
Years: 2008
Explosive speed with super-fast reflexes - handle Nitro with care.
With speed and explosive acceleration, Nitro is unlike anything you've ever seen before.
"I'm fast, volatile and very unpredictable," she says.
She may be small in stature but what she lacks in height she makes up for in speed and agility.
"Never underestimate me," she says. "I'm faster than the speed of lightning."
Nitro's mind is quite like her physical abilities. She thinks fast and her personality can explode in the wrong direction without warning.
"I hate to lose," she says. "It doesn't happen very often but if it does, then I'm capable of exploding."
Nitro plays hard, is incredibly versatile and she is up for any challenge. While she enjoys playing all the games, she is particularly fond of the Pendulum.
"It's a very tough game," she says. "You have to be strong as often you're hanging on for dear life by one arm. I also love the Pyramid because of the big tackles and high falls."
A fighter to the end, Nitro's intensity soars when the crowd gets behind her.
"It takes me to greater heights."
Your Comments: