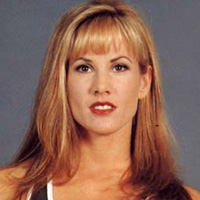 Rebel
Name: Barbara Kendell
Height: 170 cm
Weight: 63 kg
Country: Australia
Years: 1995
At 170 cm and 63 kg some might think Rebel was a pushover. Think again. There's hidden steel beneath the beauty.
Rebel was an Australian representative in the Miss International Beauty Pageant and has twice been awarded the title of Miss Australia Bodybuilding Champion.
Possessing powerful upper body strength, Rebel lives up to her name in such challenging events as Powerball and Gauntlet. She has played a wide variety of sports including netball, swimming, tennis and was a champion high school athlete.
Rebel's interests run from roller-blading to meditation. So, why Gladiators? "It's a golden opportunity to prove how competitive I am," she said.
Rebel has her own personal training business and conducts bodyshaping seminars. If her face looks familiar it's because you've probably seen it in various magazines and advertising billboards across Australia.
Your Comments: