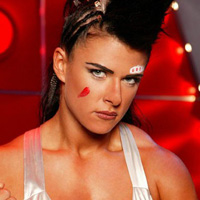 Amazon
Name: Shari Onley
Height: 185 cm
Weight: 80 kg
Country: Australia
Years: 2008
Ruler of all warrior women, Amazon comes from many generations of military minded matriarchs.
Fierce and uncompromising, she lives for the fight.
"The art of combat is in my blood. My ancestors fought as true warriors. The Challengers may have training on their side but this is no match for the history pulsing through my veins."
Like her name, she is Amazonian in stature. With her towering Mohawk and tribal staff, she cuts a formidable figure in the Gladiators arena.
"I am unrelenting," she says. "Any Challenger should fear me."
Armed with a never-say-die attitude, Amazon excels at Powerball.
Intimidating and fearless, she is also adept at Whiplash and Sumo Ball.
Your Comments: