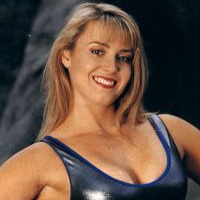 Cheeta
Name: Nicola Davico
Height: 165 cm
Weight: 55 kg
Country: Australia
Years: 1995 - 1996
Cheeta won the 1995 Miss Fitness Pageant, proving her ultimate fitness. Cheeta can take the punishment of Powerball and equally dish out the punishment to challengers in Pyramid.
She has been in training for Gladiators since she began gymnastics at the age of 11. Cheeta won the title in the Australian Lightweight Bodybuilding Championships.
The lightest Australian Gladiator, at just 55 kg, Cheeta proves that being blonde and having good looks can be deceptive - under the golden exterior there's steel-edged toughness.
Cheeta plays tough and works tough, hitting the gym seven days a week with a program that would cause havoc to anyone less fit. Her routine includes weights, power-walk, boxercise, cycle, treadmill and step class.
Raised on the Central Coast of NSW, Cheeta grew up with an equally competitive sports-loving brother - footballer Luke Davico.
Cheeta sadly sustained a torn upper torso muscle in Heat 8 of Series 3. This mean't she was sidelined for the remainder of the season.
Your Comments: