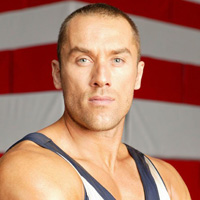 Kouta
Name: Anthony Koutoufides
Height: 191 cm
Weight: 101 kg
Country: Australia
Years: 2008
A uniquely Unparalleled Athlete. You'll know you've been marked when you've been marked by Kouta.
Gifted with incredible powers, the Greek gods have seen fit to raise Kouta up to be member of their select group.
He thrives on competition and playing is equal to the glory of winning.
"I love a challenge," he says. "I am extremely competitive. I enjoy the thrill of competition. Win or lose, it's all about the journey, not the result."
Naturally blessed with skill and precision, losing is something he rarely has to endure.
"I am number one," he says. "I know what it takes to win. Having always being an athlete and a competitor, I've got the drive in me to compete."
Fair, athletic and fearsome, Kouta is most proficient in the Duel and Pyramid.
"I love the one-on-one battle," he says.
With his supreme tackling abilities, he is also a fan of Powerball. Always a team player, he enjoys the Gauntlet too.
"Everyone has to play their role and do their bit for the team," he says.
Like his fellow Gods, Kouta is sure to be revered by fans for his natural prowess and sportsmanship.
"I'm fair and very competitive. I hate to lose but will always praise Challengers when they deserve it."
Your Comments: