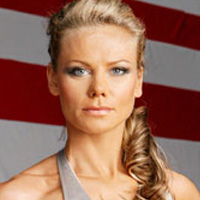 Olympia
Name: Tatiana Grigorieva
Height: 179 cm
Weight: 65 kg
Country: Australia
Years: 2008
Regal and statuesque, Olympia revels in the glory of winning and the spirit of competition.
"I am constantly seeking my next challenge," she says. "I live for the battle and the thrill of the win. All I ask is that you give me a challenge."
She seeks perfection and remains true to the ethos of good sportsmanship. She was born to compete. But for Olympia it's not all about the glory, it's about the contest.
"I value the game and the result of the game," she says. "I'm joyful in success and graceful in rare defeat. You must learn from success as well as failure."
A tough and fearless competitor, Olympia shines in games like Powerball, Vertigo and Pyramid. With her speed and agility, she will be a force to be reckoned with.
"Fear is unknown to me," she says.
Like royalty, she is regal, graceful and majestic. She also knows how to make an entry. With flames of fire, she casts a powerful glow over everything in her wake.
Her dedication to fairness and the spirit of true sportsmanship will no doubt inspire others.
"Have the courage and you will have the power" she says.
Your Comments: